Previously, I shared our experience travelling with the 8 hour overnight train that we took from St. Petersburg to Moscow. On our subsequent trips, we decided to try out the flights and Sapsan (Russian High Speed Train) to commute between Moscow and St. Petersburg.
When we were planning this trip, we struggled to figure out what is the most efficient way to travel between these two major cities in Russia. Having tried all three – the 8 hour train, Sapsan train and flight, we can't wait to share our experiences and money-saving hacks we discovered.
FLIGHTS: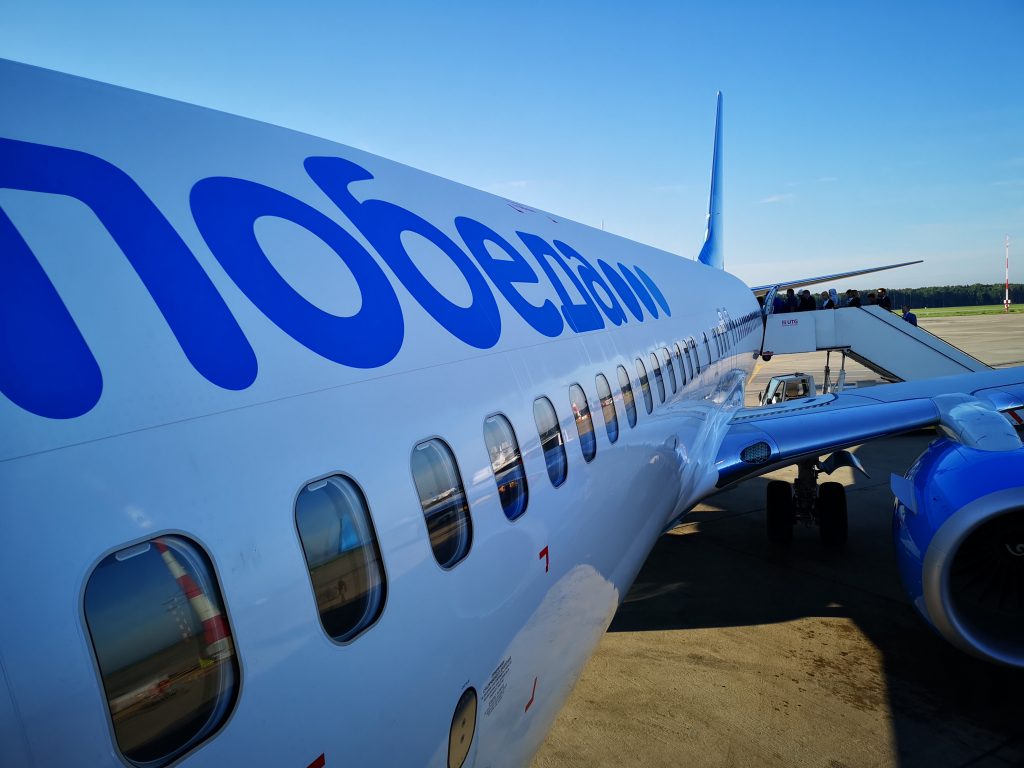 We tried out 2 different airlines to travel from Moscow to St. Petersburg, S7 Airlines and Pobeda Airlines. Both flight duration took around 1 hour 20 minutes. Here I've made a simple comparison based on the journey completed with these 2 different airlines on the same route.
| | | |
| --- | --- | --- |
| | S7 | Pobeda |
| Airfare | 16,272 RUB (RM1,044) | 4,177 RUB (RM268), plus 6,233 RUB (RM400) for additional check-in luggage at the airport |
| Purchase from | https://www.s7.ru/ | https://www.expedia.com.my |
| Aircraft Model | Airbus A319 | Boeing 737-800 |
| Point of Departure | Domodedovo Airport, Moscow | Vnukovo Airport, Moscow |
| Point of Arrival | Pulkovo Airport, St. Petersburg | Pulkovo Airport, St. Petersburg |
| Flight Duration | 1 hour 20 mins | 1 hour 20 mins |
| Check-in Baggage Allowance | Inclusive for Economic Flex onwards | Not inclusive, check rates |
| In flight Meals | Inclusive, Chicken Tortilla Wrap | None, option to purchase not seen |
| Hand-carry luggage Allowance | 1 piece up to 10 kg, dimensions not exceeding 55×40×20 cm. | Total dimension of all items not exceeding 36x30x27cm. |
| Comfort | 3/5 | 3/5 |
| Concerns | None | Our seats were not assigned close by each other despite purchasing tickets and checking in together. Notice this with other groups too. |
Travel Tips:
Due to fluctuating currency exchange rates, flights offered on the same website but different country domains could vary in prices, e.g., _______.my VS _______.sa or ________.hk (as long as you can understand the words). Do some maths and compare the prices, you will be surprised!

NOT all hotels will agree to safekeep their guests luggages OVERNIGHT. We had the wrong assumption when booking one of the flights, thinking that there was no need to purchase check-in baggage since we would only check out for a night and would return to stay in the same hotel the very next day, only to find out that the hotel has a policy that forbids holding any items belonged to the guests overnight. We ended up forking out more money to check in our baggages at the airport.
SAPSAN TRAIN: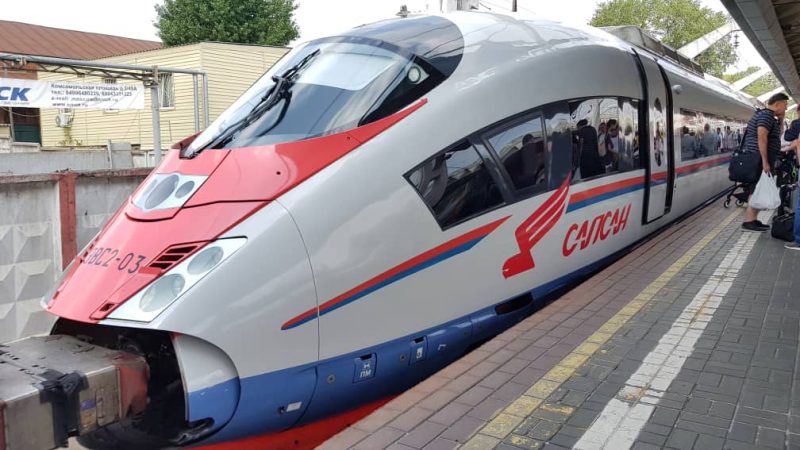 How much?
Sapsan train is the high speed train in Russia connecting St. Petersburg, Moscow, and Vladimir. We reserved our train tickets from St.Petersburg to Moscow to travel on the day of FIFA World Cup Final. Ticket price surge was expected on such a high demand day and after some research we found that https://www.tutu.travel/poezda/ offered the best rates. With 9000 RUB per person, we got the pet friendly seat (other seats were already taken). A quick search for regular seat on non-peak days shows that ticket prices normally range from 4000 RUB to 7000 RUB.
Getting to the train station
Unlike airports, train stations are much nearer to the city. It took us less than 20 mins during non-peak hour to reach St. Petersburg-Glavn (Moscow Railway Station) YES, this is in St.Petersburg. We were still early and had some time to grab a few munch, but later found out that Sapsan actually has quite a good variety in their on-board menu which we also tried.
Services On-board
Ordering food is very easy on Sapsan. Just scan a QR code on the menu and passenger will be directed to a website to place the order. Then you can sit back, relax and wait for your order to be delivered. Payment can be made via cash or card when you get your food. The only glitch that we encountered was that the menu was only in Russian, fortunately we had our Google Translate App which we can hover over the words and understand what they mean instantly.
Comfort
Seats on the Sapsan train are spacious and comfortable, we could barely feel that we were cruising at 250km per hour. With some snacks and a nap, it didn't take too long until the announcement went "we have now arrived at the Leningrad Station, Moscow".
Having tried all three most opted modes of transportation to travel between Moscow and St. Petersburg, we found that each option has their own pros and cons depending on individual's needs. Maybe the following points of consideration may help you make better decision next time you travel in Russia.
Cost: Flights can possibly be the cheapest option (check the hidden fees), but Overnight Train can save you one night of accommodation.
Distance and Time: Train station is generally nearer to the city compared to the airport.
Comfort: Sapsan Train is most comfortable, followed by Flight and Overnight Train.
How we endured 8 hours on a 14 square feet train cabin with strangers in Russia here.